Company InformationMore>>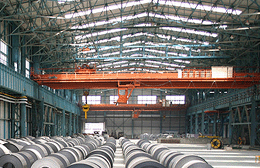 Welcome to Longhai Special Steel Co., Ltd. A state run business with over 30 years experience in delivering special steel. As an ISO 2000 accredited special steel supplier we can help and advise on those hard to find special Steel Specifications including British Standard BS970 specifications and BS EN ISO 4957 grades.
With a wide stock range, you'll find Tool Steel specifications, suitable for cold work, hot work, and plastic mould applications. Also ground tool steel products including Silver Steel and Ground Flat Stock. Tool steel can be supplied to European Standards such as DIN Specifications. We also supply to AISI steel grades and AISI equivalent grades.
In addition we are stockists and suppliers of Stainless Steel with precipitation hardening 17-4PH, FV520B, Duplex UNS S31803 and Super Duplex UNS S32760 grades. Austenitic, martensitic and ferritic specifications stocked in a large range of shapes and sizes. We are also steel suppliers of austenitic 11 to 14% High Manganese Steel, which is a work hardening steel grade.
Our leading products of steel are Special Steel, Tool Steel, Mould Steel, Alloy Steel, Stainless Steel, Heat-resistant Steel, High Speed Steel, Spring Steel and Bearing Steel and so on, which have formed 12 series and more than 350 varieties with nearly 5000 specifications.

All grades can be supplied as steel plate / sheet, round / hollow, tube / pipe, strip, billet, ingot, wire rod. electroslag, forging / casting, we also can supply titanium steel.

Standards: DIN/GL, NF/BV, BS, JIS/JASO/NDS, ASTM / SAE / UNS/ AISI and per your specific requirements.